What You Should Know About COVID-19 & Your Return to Work
As we move from a remote to hybrid to office environment, you may be wondering about whether or not your company will require you to return to the office. Here at Caras Law Group, our attorneys can help you sort through the answers to your "return to work" questions.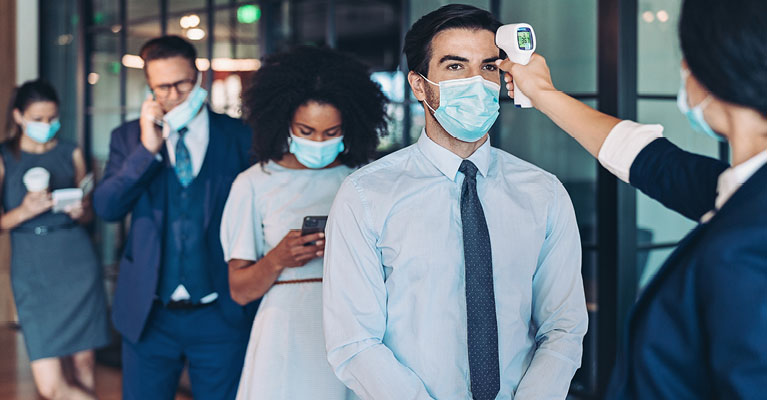 Frequently Asked Questions:
Is return to work mandatory?
As of March 2022, the Illinois Department of Public Health, Equal Employment Opportunity Commission, and the Illinois Department of Human Rights have not ruled on this issue. This means that employers have the ability to ask employees to return to work without any protections in place for those who prefer not to return to an office environment.
However, if you are at a higher risk of severe illness from COVID-19, there may be accommodations that your employer can provide to eliminate possible exposure.
For those in jobs that may only be performed at the workplace, those accommodations could offer protection to employees, as long as they do not require the employer to undergo "undue hardship" in implementing such accommodations. At Caras Law Group, we can walk through what "undue hardship" looks like, and what accommodations might be accessible through the ADA.
What are employees (i.e., you) entitled to in terms of accommodations under the ADA if they are at a higher risk of severe illness from COVID-19? (Equal Employment Opportunity Commission, 4/9/20)
There may be reasonable accommodations that could offer protection to an individual whose disability puts that person at greater risk from COVID-19 and who therefore requests such actions to eliminate possible exposure. Even with the constraints imposed by a pandemic, some accommodations may meet an employee's needs on a temporary basis without causing undue hardship on the employer.
Low-cost solutions achieved with materials already on hand or easily obtained may be effective. If not already implemented for all employees, accommodations for those who request reduced contact with others due to a disability may include changes to the work environment such as designating one-way aisles; using plexiglass, tables, or other barriers to ensure minimum distances between customers and coworkers whenever feasible per CDC guidance or other accommodations that reduce chances of exposure.
Flexibility by employers and employees is important in determining if some accommodation is possible in the circumstances. Temporary job restructuring of marginal job duties, temporary transfers to a different position, or modifying a work schedule or shift assignment may also permit an individual with a disability to perform safely the essential functions of the job while reducing exposure to others in the workplace or while commuting.
Is an employee entitled to an accommodation under the ADA in order to avoid exposing a family member who is at higher risk of severe illness from COVID-19 due to an underlying medical condition? (Equal Employment Opportunity Commission, 6/11/20)
No. Although the ADA prohibits discrimination based on association with an individual with a disability, that protection is limited to disparate treatment or harassment. The ADA does not require that an employer accommodate an employee without a disability based on the disability-related needs of a family member or other person with whom the employee is associated.
Have more questions about returning to your office?
You can learn more by giving us a call at (312) 494-1500 for a free consultation, or by visiting the EEOC website here.